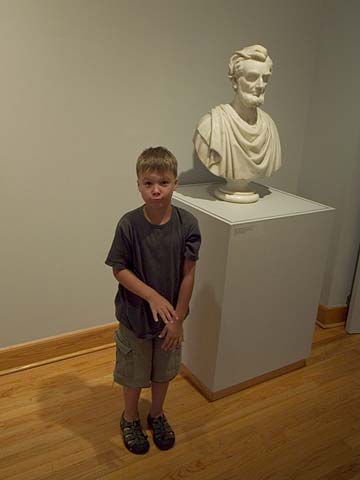 Abraham Lincoln by Sarah Fisher Ames, 1868
Although I liked Greta Pratt's Lincolns at MASS MoCA–like Elvis impersonators at an Elvis convention–I was happy to see Sarah Fisher Ames's bust of Lincoln from 1868. Ames's Lincoln, while idealized, is familiar, human, and there seems something wry and knowing about his expression. The artist clearly views Lincoln with a sympathetic eye and portrays Lincoln as a great man–but approachable, accessible. Although I appreciate the mutable cartoonish Lincolns of the impersonators (as seen by Pratt), and I understand the implied suggestion that Lincoln remains open to interpretation and historical revision, I was moved by this earnestly rendered portrait just a few miles down the road, and reminded at the same time of what was at stake in Lincoln's time. We find ourselves, today, in another moment when fundamental values hang in the balance. And while one looks for men and women of Lincoln's stature to pull us back from the brink, one also looks for artists to reclaim the moral high ground. Both kinds of leaders seem in short supply.

Urban Landscape by Zhan Whang
I spent a good deal of time looking at the three Jackson Pollock frieze paintings on display, one belonging to the museum, which has been recently restored. In this era of mega exhibitions, it is a pleasure to be asked to contemplate just three paintings. In a nearby gallery were Jacqueline Humphries' Seven Sisters, a new series of beautifully luminous paintings reminding one that painting is alive and well, though it may be ignored upriver at MASS MoCA. There was, however, installation art at Williams College Museum–Urban Lanscape by Zhan Whang–a depiction of the cityscape of Beijing rendered in pots and pans and other kitchen objects. It was spectacular at Williams, and would have looked even better in the factory galleries of MASS MoCA.