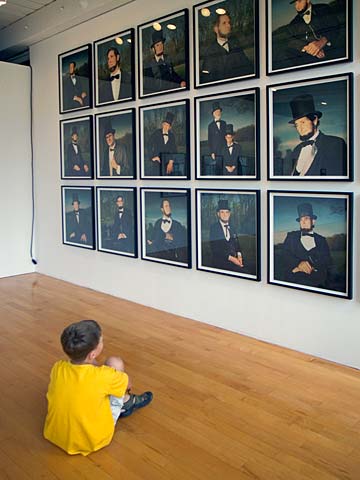 18 Lincolns, MASS MoCA by Greta Pratt
(no photos allowed in galleries)
The museum is an impressive adaptation of a factory complex along the Hoosic River containing large spaces with 19th century wood beams and columns. Large spaces dictate outsized art, or at least that's the way most curators approach things. Which means, generally, installation art. House of Oracles: A Huang Yong Ping Retrospective was the main show, a gigantic assemblage of assemblages touching on history, politics, and the aesthetics of art exhibitions. A mock dinosaur fossil bigger than any in the Museum of Natural History hovers over one gallery its tail poking through a door into another. The museum website points to an essay by Phillipe Vergne who writes that Huang's work has: " brought to my understanding of art as an aesthetic storm, a storm that is the image of the important shifts in aesthetic and theory that have fed the field of art history, its narratives and discourses, over the last twenty years, leaving it baffled." Putting aside the fact that a field of study does not have consciousness and therefore cannot be baffled, I saw lots of baffled elderly people shuffling through the exhibit.
I was also not terribly amused by Carsten Hoeller's Amusement Park, which I assume is intended to slow down and decontextualize experience. The museum website states: "Originally trained and employed as a scientist, Hoeller now uses his audience as "subjects", positioning his work as giant experiments. But, with no data recorded, measurements taken, or objective results achieved, he allows visitors to experiment with themselves." The result of the experiment I ran on myself was boredom with the art in MASS MoCA and a yearning for the cool stuff outside like in this picture: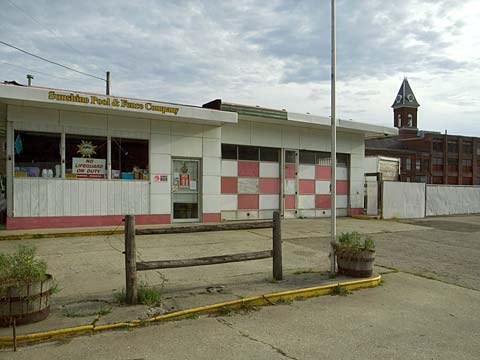 Sunshine Pool and Fence Company