Since the heat wave of two or three weeks ago, the weather has been mostly beautiful in New York. On one particularly fine day I took a stroll with my family along the Hudson River Park. We walked from City Hall past the WTC site, the newly completed 7 WTC, and the Barclay-Vesey Building on West Street. The latter building is considered the first art deco skyscraper and was designed by Ralph Walker of McKenzie, Voorhees & Gmelin. Completed in 1926, it is a masterpiece of great formal strength, and at the same time, exhibits delicately carved stone work. The vaulted arcades at ground level are, perhaps, what most people know of the building. Despite the immensity of the World Trade Center and Battery Park City complexes nearby, the Barclay-Vesey remained a strong presence on the skyline.
When the WTC towers fell, much damage was done to surrounding buildings including the Barclay-Vesey. It has since been restored to its former glory. Rising next door is the new 7 WTC by David Childs of SOM with its crystalline curtain wall providing an almost transparent glass backdrop to Barclay-Vesey's brick and stone. I took the picture below with my digital camera just in front of the BPC cinemas where the Goldman Sachs headquarters is under construction. This view will be gone once that skyscraper is completed.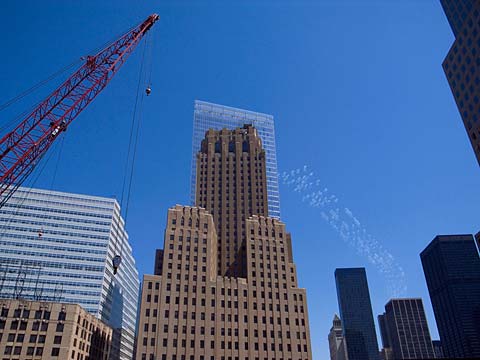 Barclay-Vesey Building and 7 WTC
Further up the river in Chelsea I took a few snapshots of the IAC building designed by Frank Gehry. It is—unbelievably, at this late date–Gehry's first structure in New York, although many more are now in the pipeline. When the first glass panels of the curtain wall went up, opinions on the blogs and bulletin boards were mixed, to say the least. Some suggested that the smokey white glass was better suited to a suburban office park.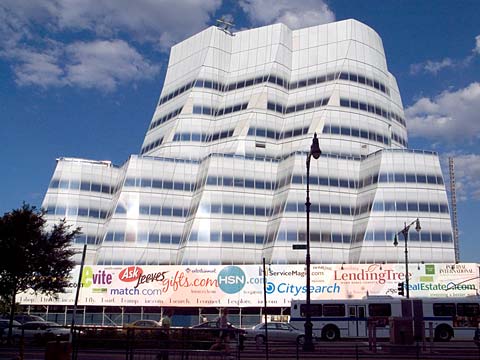 IAC building designed by Frank Gehry
I think the skin of this relatively restrained Gehry building is gorgeous against the pleated armature beneath, looking not unlike a majestic tall ship in full sail on the Hudson River. It will be even better once the street level scaffolding is gone and the glass touches the sidewalk.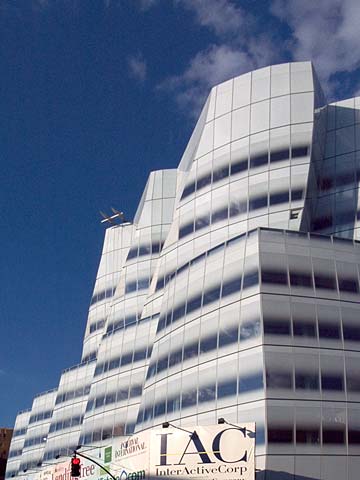 IAC building designed by Frank Gehry
Hudson River Park is still a work-in-progress, but significant stretches of it are finished. On a mild day like this one thousands of people were walking and bicycling the promenade, or sunbathing on the grass. On our way uptown we stopped to rest, and I took this picture of my son Brendan and my wife Renée.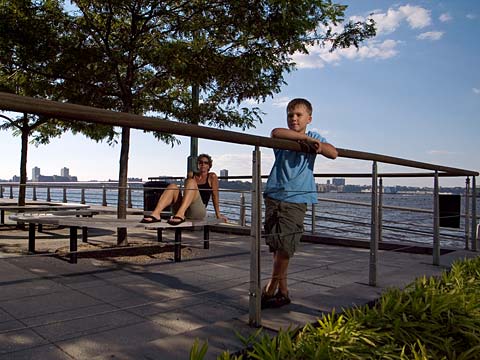 Brendan and Renée, Hudson River Park