NDSM Shipyard
Over the years I've made many photographs of Amsterdam, but few of them show the beautiful historic center of the city. On the one hand, the old center of Amsterdam is the focus of the city still thick with shops, small businesses and museums, along with tourists. On the other hand, it is the least vital part of the city in that it is largely a cityscape frozen in time, small in scale, expensive, and less adaptable to either the pursuits of corporate big business or the individual enterprise of artists. So, I have tended to concentrate on more far-flung locales, from the immigrant neighborhoods in the west of the city to the office ghettos bordering the A10 ring highway. These areas have none of the charm of the central canal belt, but on the periphery of the city, they exhibit the raw edges of modern Dutch society.
Today I walked to the ferry dock behind Central Station and took the boat to the NDSM shipyard, once a bustling industrial complex, now a hodge podge of artists and artisans occupying the cavernous halls where ships were built and repaired. It is at once desolate and busy with virtually every part of its decrepit infrastructure put to some use. It is, alas, all destined to be transformed into a high tech center for new media, though its primary structures will be preserved and some of the artists will have space to continue their work.
The specific goal of my visit today was to photograph a colorful colony of stacked containers just beyond the ferry dock on the north side of the Ij, Amsterdam's principle waterway. The ferry makes the trip briskly in about 10 minutes passing my apartment building, designed by the architects MVRDV, which intentionally evokes the image of stacked shipping containers.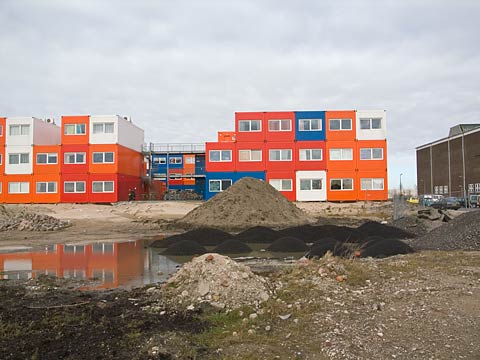 Student Housing
Unlike American universities where dormatories are provided to house students, Dutch schools rarely offer living accomodations. Because the housing market in Amsterdam is so tight, students are increasingly unble to find suitable places to live. So, temporary pre-fab housing has been created in various places to serve swelling enrollment to the University of Amsterdam and other local institutions.
The container village adjacent to the NDSM grounds is a strange sight. Built on the rubble of the former industrial terrain, corrugated steel boxes are stacked three stories high with perforated metal stairs and bridges providing circulation. The only interiors are the dorm rooms themselves. The wind and damp flows freely through the complex, a futuristic dystopia, or perhaps, an expression of extreme cool.